Nextcloud version - 20.0.10
Operating system and version - Debian 10
nginx version 1.14.2
PHP version 7.3.19
PostgreSQL 11.12
Tries to update nextcloud to version 20.0.11. Even though the update is complete, it still says nextcloud needs to be updated to version 20.0.11.
When I click on "Open updater" I see a window in which all the checks are immediately green before I click "Continue update".
I am asking for help in solving the problem.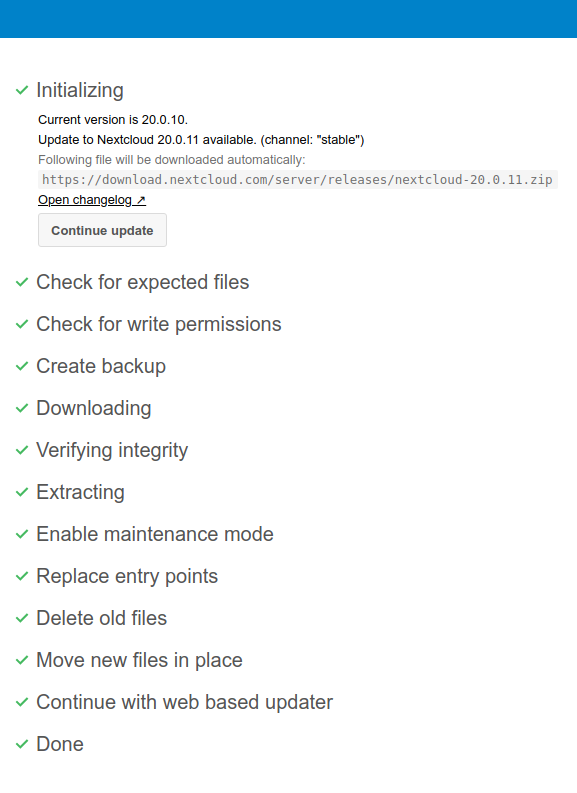 The command line update looks like this:
# sudo -u www-data php /var/www/nextcloud/updater/updater.phar
Nextcloud Updater - version: v20.0.0beta4-11-g68fa0d4

Current version is 20.0.10.

Update to Nextcloud 20.0.11 available. (channel: "stable")
Following file will be downloaded automatically: https://download.nextcloud.com/server/releases/nextcloud-20.0.11.zip
Open changelog ↗

Steps that will be executed:
[✔] Check for expected files
[✔] Check for write permissions
[✔] Create backup
[✔] Downloading
[✔] Verify integrity
[✔] Extracting
[✔] Enable maintenance mode
[✔] Replace entry points
[✔] Delete old files
[✔] Move new files in place
[✔] Done

Continue update? [y/N] y

Info: Pressing Ctrl-C will finish the currently running step and then stops the updater.

[✔] Check for expected files
[✔] Check for write permissions
[✔] Create backup
[✔] Downloading
[✔] Verify integrity
[✔] Extracting
[✔] Enable maintenance mode
[✔] Replace entry points
[✔] Delete old files
[✔] Move new files in place
[✔] Done

Update of code successful.

Should the "occ upgrade" command be executed? [Y/n] y
Nextcloud is already latest version

Keep maintenance mode active? [y/N] n
Maintenance mode already disabled

# sudo -u www-data php /var/www/nextcloud/occ --version
Files - 20.0.10