Dear Nextcloud community,
I just started working with Nextcloud and I really love it so far. So, friends of mine want to use Nextcloud to work on a project together. To this end I created a calendar and shared it with the group. Now I would like to create one link that everyone of this group can use to see / access the calendar. I though that this should work by clicking on the "…" next to the calendar name and then choose "Link" as seen on the screenshot: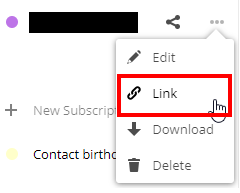 The link that is generated then has the following structure: https://nextcloudURL/remote.php/dav/calendars/MYUSERNAME/CALENDARNAME-kalender/
However, this link cannot be accessed even by myself because I get the following error:
This is the WebDAV interface. It can only be accessed by WebDAV clients such as the Nextcloud desktop sync client.
My first question is: Why do I get this error and what can I do to fix it? Is it even supposed to work?
My second question is: Is it possible to genearte one unique link that works for all group members? I am asking this because for other apps (e.g. Deck) it is possible to have one and the same link that works for all other members of a group that the deck is shared with.
Thank you very much for your help