Environment:
Docker image: nextcloud:24-fpm-alpine
The issue you are facing:
Multiple users share '_explorer' folder to recipient user. As expected, recipient users start see folders as:
_explorer(2)
_explorer(3)
_explorer(4)
_explorer(5) (23 minutes ago)
Then next share happens form new user (13 minutes ago).
Expected was to see:
_explorer(6) (13 minutes ago)
Unfortunately there was an overwrite on, recipient user files:
_explorer(5) (23 minutes ago) --> _explorer(5) (13 minutes ago)
Since now, each new user share: overrides folder:
_explorer(5)
instead of creating:
_explorer(x)
Is this the first time you've seen this error? (Y/N): Y
Steps to replicate it (looks like random but):
Share folder with same name from 'multiple users' to 'recipient user'
The outputs:
No errors, logs connected to issue. Fresh docker installation.
Screenshot: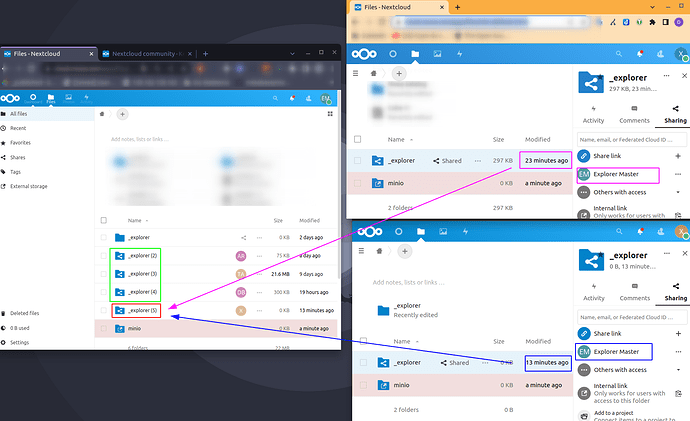 I will be grateful for any hints
Regards,
Damian