oh, me too! i can't find any resource booking functionality. I'm really looking forward to this feature!
I cannot provide any internal information, yet it evident that @georgehrke is improving this functionality for Nextcloud 17:



any news on this with Nextcloud 17? I can't find anything so far.
Calendar 2.0 is released and indeed when adding participants, the form placeholder mentions rooms and resources. Now, just missing the UI to create those. For me, actually a command line utility would be enough; anybody insights into how resources/rooms are modelled?
As far as I understood, the message from attached Link (https://github.com/nextcloud/server/pull/9773#issuecomment-399842297), there is a backend necessary to create resources as rooms, equipment, etc. but I did not find this backend in the nextcloud appstore and I also do not know/understand how to make and install this backend from the github sources.
Sometimes patience is hard to practice, but I strongly appreciate @georgehrkes work!!!
Hi everyone,
As you can see here https://github.com/georgehrke/admin_resource_booking_database/pulls I fixed some bugs in the demo resource booking backend some time ago and after a short test those changes also work in NC 18, see https://github.com/sualko/admin_resource_booking_database. UI is still a bit buggy, but you can create room and resources in the admin settings. You just have to enter [] in the field of group restrictions, because it leaks UI functionality for that. It also doesn't auto accept invitations for a resource and therefore you can book a resource multiple times.
Please beware that this is just a demo and that I don't have time to maintain this app, but it's a starting point.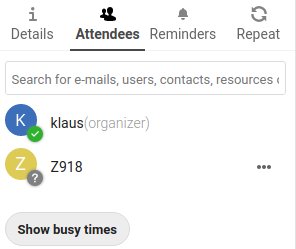 EDIT: It does auto accept/decline invitations, but it needs some time.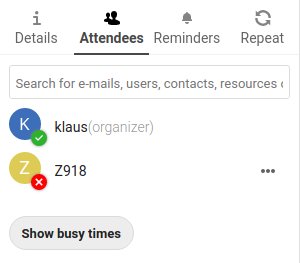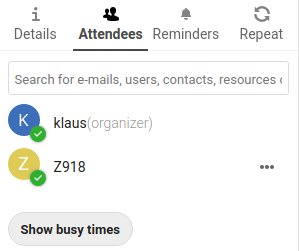 Cool @sualko, this is getting somewhere! Would be great if someone could make it stable and put it on the NC appstore…
In this comment https://github.com/nextcloud/server/issues/17961#issuecomment-554401645
@georgehrke seems to say some customers use their own resource booking software and hook it into Nextcloud. Anybody know which system can do that?
Also, do you think in the future it will be possible to see the calendar for a resource and print it (to post on the door)? That is what I am looking for ATM.
Thanks ;D
@sualko and @alexanderdd
With the help of my son, I was able to build the experimental resource management from https://github.com/sualko/admin_resource_booking_database. After that, I could install it in my Nextcloud which is running on IONOS Webspace by copying it into apps folder in Nextcloud. When the App is there, it can be activated by Nextcloud Admin.
I started to test it with one resource "room" and another resource "device". As stated by @sualko, there is no automatic response of the resources, so you can not check collision of resources at a certain time slot.
At the moment I was not able to upload the app to nextcloud appstore, but I can provide it if I get a request by PM.
As I am no Software developer, I would appreciate any developing activity at this point. At least I could offer test activities for anybody who has knowledge and time for improving this app.
@MS92697, I've been spending a bit of time on this and I can't seem to make it work. Could I bother you for the built app ? Thanks in advance.
@ZeFrenchmen This is no bothering at all. I am happy, when somebody with real knowledge is trying to bring this app into "productive mode".
Please see attached Link (two weeks vaild!) for the App. You have to copy it into the "apps" directory, extract the Zip file and activate the App in the Admin account of your nextcloud. Activation in the Admin account must not be forgotten…
Danke, much appreciated. I don't have the required knowledge, just enough to bumble my way through, but I do have people around me to help and if this works as intended, we'll try to do our part as well to make this closer to completion. Big thanks again.
könntest du den Link/die Datei bitte noch einmal freigeben?
@kazim
Link is activated again and open for another two weeks.