Hello everyone,
some time ago I went up to php 7.3 on my Synology.
To be precise:
nc 16.0.5.1
php 7.3.7
Apache 2.4
Nextcloud is working so far, I am not facing a complete faulty installation or so.
I started to work on the "big int" error, tried to put nc into maintenance mode with
"sudo -u http php occ maintenance:mode --on" (while http is the web user on synology)
This gave me the message:
"You are currently running 5.6.11. Please update your PHP version."


But nextcloud gives me: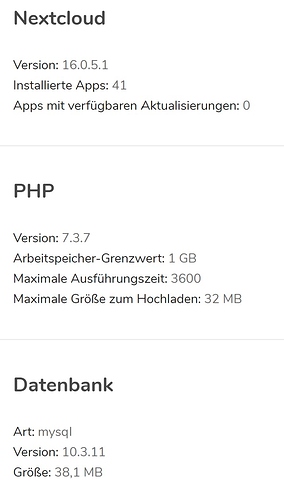 On host side (Synology) its clear, that Apache 2.4 and php 7.3 are in use:

What did I miss / do wrong when I updated to php 7.3?
and of course
how can this behaviour be corrected?
Tahnk you and Best Regards