Hello,
I've installed on the same VM in my intranet both Nextcloud 15 and Onlyoffice Document Server using the following tutorials: https://www.howtoforge.com/tutorial/how-to-install-nextcloud-with-nginx-and-php-fpm-on-centos-7/ and https://helpcenter.onlyoffice.com/server/linux/document/linux-installation-centos.aspx. As you can see through the attached images I can access both the applications with HTTP connection via http://nextcloud.xxx.it and http://onlyoffice.xxx.it.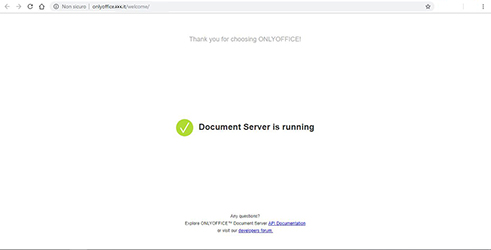 I'd like to integrate Onlyoffice in Nextcloud, so I activate the app as NC Administrator but when I set http://onlyoffice.xxx.it as "Document Editing Service address" I have the error Error when trying to connect (Bad Request or timeout error)
Can anybody help me?