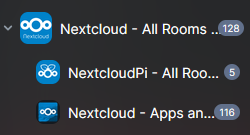 Matrix users can now chat alongside our bridged Telegram group from https://matrix.to/#/#nextcloudpi:matrix.org while following along with forum support topics.
Matrix user: if you are running a current version of Matrix / Synapse, you can enable Spaces to access community indexes of Matrix and IRC chats related to various Nextcloud functionality:
Nextcloud - All Rooms and Communities
NextcloudPi - All Rooms and Channels
Nextcloud - Apps and 3rd Party Integrations
Hope this is helpful to others. It is all community maintained and just for fun.