Liebes Forum,
ich nutze einen Raspberry Pi zum Betrieb der Nextcloudpi. Der hängt an der Fritzbox und über das WLAN wird der Zugriff per iPhone und Windows Nextcloud App geregelt. Er funktionierte über 1 Jahr problemlos.
Seit ca. 1 Woche besteht kein Zugriff mehr auf die Nextcloud. Die App zeigt das folgende Bild: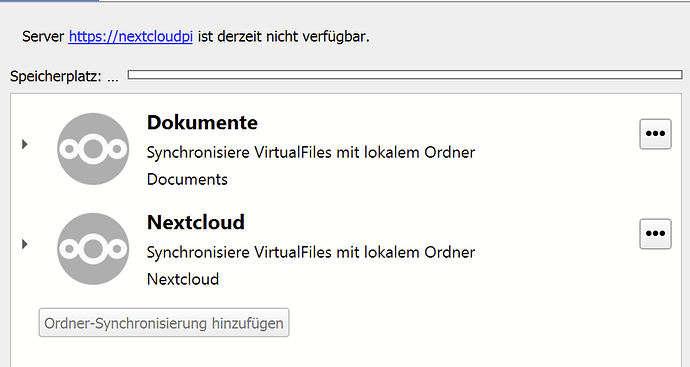 Über Firefox liefert die folgende Adresse eine Fehlermeldung
https://nextcloudpi.local/
Fehlermeldung:
Internal Server Error
The server encountered an internal error and was unable to complete your request.
Please contact the server administrator if this error reappears multiple times, please include the technical details below in your report.
More details can be found in the server log.

Mittels Putty-Zugriff auf den Raspberry liefert der Befehl "nc-info" folgende Infos. Auffällig ist, dass "HBP service down" anzeigt. Nach einem Reboot blieb der Status weiterhin bestehen.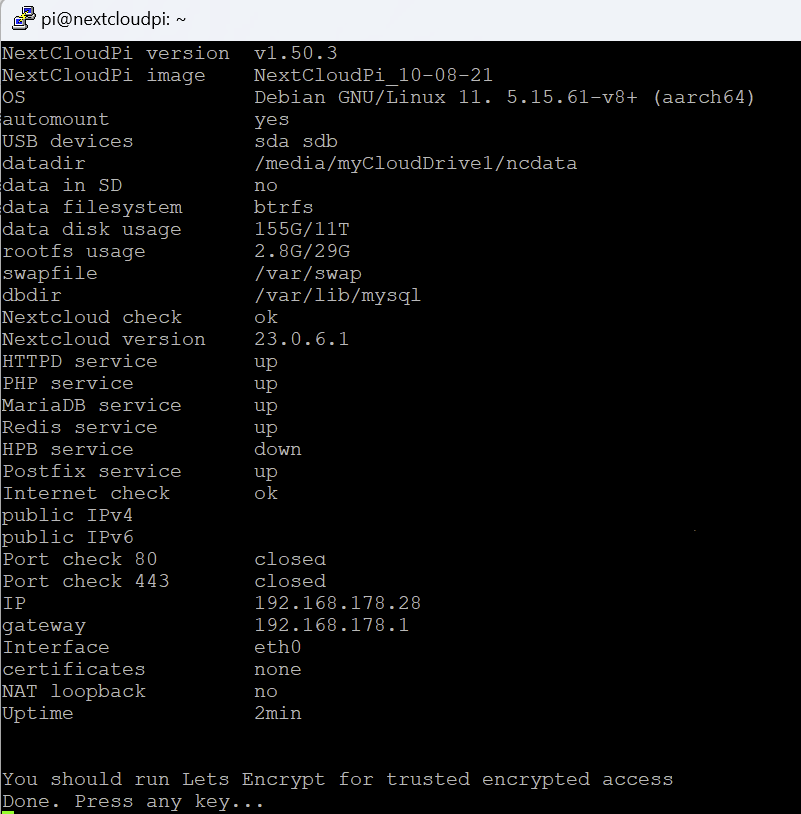 Ich weiß an der Stelle nicht weiter, wie der Zugriff wieder hergestellt werden kann.
Ist das Problem hier bekannt und kann jemand helfen?
Danke!
Beste Grüße
Robert
Betriebssystem: Nextcloud 23, Window 11, neueste Fritz-Firmware,

Nextcloud Version: 23.0.6.1

PHP Version: 7.4 (8.1 scheint auch vorhanden zu sein)

Welche Datenbank? MariaDB

Apache version, usw.

Netzwerk Aufgliederung: Fritzbox - LAN - Raspberry Pi

Wurden vor kurzen Server Updates gemacht? Automatische Updates sind aktiviert.

Habt ihr die Logs angesehen von Nextcloud und von System? Wo finde ich diese?

Bei was für einer Aktion ist der Fehler aufgetreten? Spontan, kein Zutun meinerseits