Hello there.
My nextcloud retrieve LDAP users very slowly.
Nextcloud version 18.0.4
Operating system - RHEL 8.2
Webserver - Apache 2.4.37
PHP version 7.2.24
Postgres 11.3
I configure nextcloud for primary storage to use local S3 Object Storage(Installed on premise). Before installation I configure objectstore and everything is installed on it.
When I configure LDAP app, server starts to pull Active Directory users and its happens very slowly. Nearly 1 user per 10 secs. Also first login to already retrieved user lasts 1-2 minutes.
Then I tried without objects store (Main storage - Nextloud server file system) and server retrieve 7500 user in several minutes. 25-30 user per sec. Also first login was as fast as admin user.
Also I check postgres db load in PgAdmin here is screenshots.
When using S3 Object Storage
You can see that it has some delays.

When using Local file system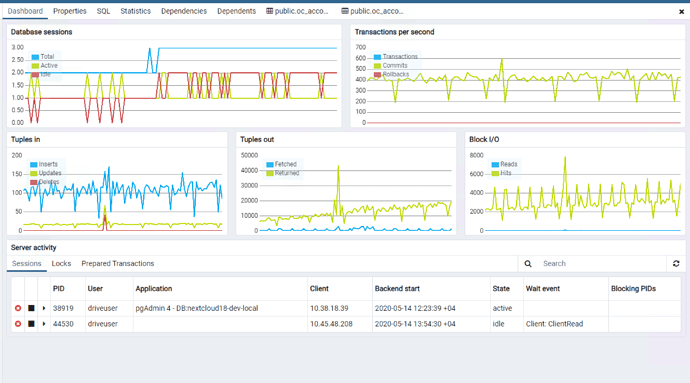 Steps to replicate it:
Install Nextcloud using primary storage S3 objectstore
Enable LDAP app
User retrieve time is very slow.
The output of your Nextcloud log in Admin > Logging:
Nothing here

The output of your config.php file in /path/to/nextcloud (make sure you remove any identifiable information!):
<?php
$CONFIG = array (
  'objectstore' =>
  array (
    'class' => 'OC\\Files\\ObjectStore\\S3',
    'arguments' =>
    array (
      'bucket' => 'nextcloud18dev',
      'autocreate' => false,
      'key' => 'key',
      'secret' => 'secker',
      'hostname' => 'drive.swarm.local',
      'port' => 8090,
      'use_ssl' => false,
      'use_path_style' => false,
    ),
  ),
  'instanceid' => 'ockfpzk8eqvg',
  'passwordsalt' => 'salt',
  'secret' => 'secret',
  'trusted_domains' =>
  array (
    0 => 'nextcloud18-dev.local',
  ),
  'datadirectory' => '/var/www/html/nextcloud/data',
  'dbtype' => 'pgsql',
  'version' => '18.0.4.2',
  'overwrite.cli.url' => 'http://nextcloud18-dev.local/nextcloud',
  'dbname' => 'nextcloud18-dev',
  'dbhost' => 'pgdb-test.local:5432',
  'dbport' => '',
  'dbtableprefix' => 'oc_',
  'dbuser' => 'user',
  'dbpassword' => 'password',
  'installed' => true,
  'ldapIgnoreNamingRules' => false,
  'ldapProviderFactory' => 'OCA\\User_LDAP\\LDAPProviderFactory',
  'memcache.local' => '\\OC\\Memcache\\APCu'
);

The output of your Apache/nginx/system log in /var/log/____:
Nothing here

The output of your Apache/nginx/system log in /var/log/____:
Nothing here