Hi.
Recently my IP address has changed due to installing a new router, so I had to log out from Nextcloud desktop and log back in with my Nextcloud server's new IP address.
The problem is the drive my local Nextcloud folder is on has only has 121 GB of free space and because of this the desktop application seems to think I want to synchronise all 387 GB on my Nextcloud server afresh in this folder, which won't fit on a drive with only 121 GB free. That's not the case. Nearly all the files in the folder on this drive are files on my Nextcloud server and realistically there's only a few MB of new files on the desktop version which need syncing, not 387 GB of files from scratch. Because of this, I can't relink my desktop Nextcloud folder to my account when logging in on desktop.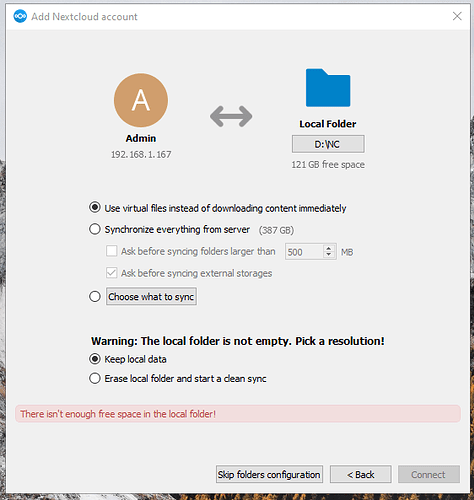 Is there any way I can get around this?
Thanks.