Originally published at: Nextcloud Notes: secure note-taking, integrated - Nextcloud


What started as a community app is now a core part of Nextcloud – introducing Nextcloud Notes!
Do you ever…
➡️ Need a quick way to take notes?
➡️ Suddenly think of a brilliant idea?
➡️ Want to brainstorm or plan?
Nextcloud Notes is a convenient, open source and secure note-taking app for all your thoughts and ideas!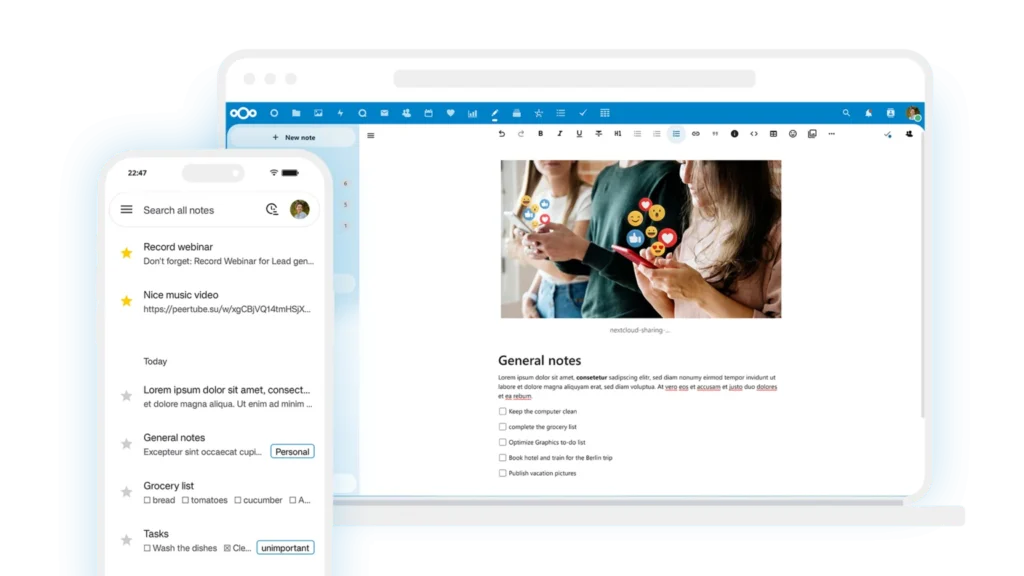 A note-taking dream
Built with Nextcloud Text, Notes supports a variety of rich text elements like headers, bold and italics, images, tables, links and most recently, the Smart Picker!
For instance, why not ask ChatGPT for some ideas?
Why Nextcloud Notes?
We often jot notes down on the go 🏃, and seek out the quickest, most convenient way possible ✅. After all, we're not about to sit down and write a novel.
For many people, they pull out their phone 🤳 and open the default notes app on their iphone or use another free space run by Big Tech companies. That's an issue, and for this reason the community has been developing and maintaining the Notes app for a long time.
Since the beginning, Nextcloud always aims to move more people to more sustainable, open-source options and integrating the Notes app into Nextcloud is another step forward. We are pleased to bring you yet again a space where you don't have to compromise your privacy and can write and note-take with reassurance that your notes, ideas, plans and data remain yours.
Note-taking for any occasion
Just to give you an idea of the possibilities with Nextcloud Notes (once you know your ideas are safe and sound), here's a list of what you can do:
Meeting notes
Shopping list
Vacation planning
Random ideas
Budget tracker
Much more!
Get Nextcloud Notes on mobile!
The Nextcloud Notes app on iOS and Android are free to use and give you a mobile friendly note-taking advantage!
"Easy to use, with a beautiful, simple, modern UI and seamless integration with Nextcloud (especially with the Notes server app built into most public Nextcloud providers)."

Luis Anton Imperial, Google Play Review