I've had the Nextcloud Desktop app version 2.6 (and 2.5 previously) running on 2 Windows 10 machines for +6 months. They connect to my private server running version 16.x. I disabled the Nextcloud app the second machines and uninstalled the Nextcloud.
I installed version 2.6 on a new (third) Windows 10 machine. The Connection Wizard prompts me to login:
I enter the URL (https://cloud.slate.rocks/) and the app reports this error: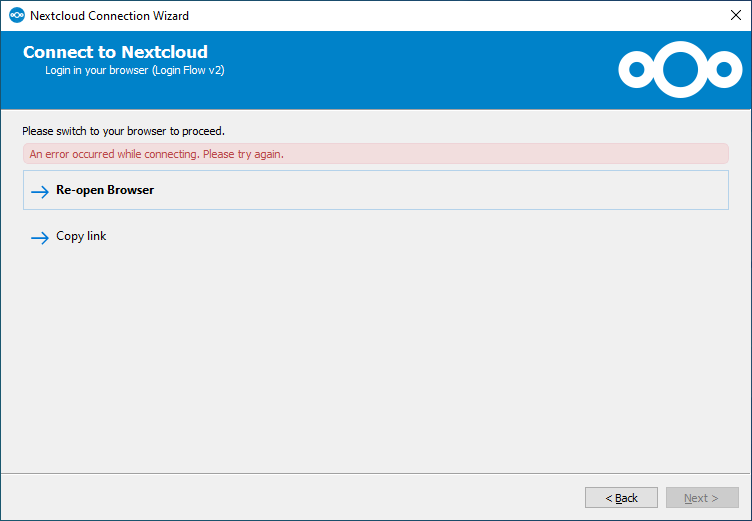 Note that clicking the "Re-open Browser" button does nothing. Clicking the "Copy link" button results in an empty clipboard.
I "switch to your browser to proceed" as instructed. When I log-in to the site via Firefox, everything is okay.
I re-installed Nextcloud app on the second Windows 10 machine. It fails just like the new (3rd) machine.
My first computer continues to work (fingers crossed).
Then, I checked my Softaculous dashboard. It reported an upgrade to version 17 was available. So, I upgraded my hosted server. I though that the new version 2.6 desktop app might not have this problem with the new version 17 server. I was wrong.
The problems continue with server version 17. That is, my first machine continues to work as it has worked for months. The second and third machines still can not connect to the server.
Note that this seems NOT to be related to the user account because the error on both machines occur before I'm prompted for user information.
Tom