Hello, I will first explain the system.
The system runs as a VM on a Windows hypervisor (Windows 10 Pro with Hyper-V).
Nextcloud was installed as a snap package.
Nextcloud's data directory has been changed to "/mnt/Storage" as this is where the RAID is mounted.
5x 4TB HDD
ZFS file system
RAIDZ (equivalent to RAID5)
OS: Ubuntu 18.04.4
I also installed a Samba server. I created a share for a Nextcloud user's file path.
Users and rights:
root
(runs Nextcloud and the Samba server)
administrator
I would like to set it up so that, for example, I add a user to the "Family Photos" group and they then have access to the "Family Photos" folder. It works via Nextcloud, but I want to set up the Samba server in the same way (I'll get that done).
However, I have the problem that if Nextcloud is the owner of the "/mnt/Storage" folder, the SMB share will no longer work because Nextcloud will overwrite the rights again and again.
I then made the "Administrator" user the owner of the folder. After that I got the following error message from Nextcloud: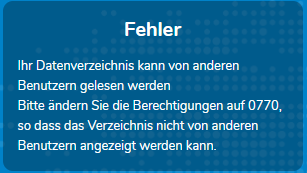 ENG:
error
Your data directory can be read by other users

Please change the permissions to 0770 so that the directory cannot be viewed by other users.
The bigger problem, however, is that when I copy files to the user directory via the Samba share, they do not appear on the Nextcloud-Web-Interface. How can I solve this?
Thanks in advance.