I don't have that "object object", but i did the update, and now it says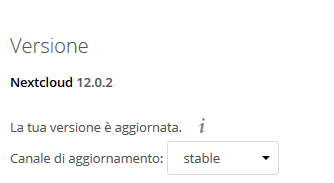 Hope it's not ransomware
https://download.nextcloud.com/server/releases/nextcloud-12.0.2.zip
What is your problem? If you do not trust the notification, wait for the announcement.
You can check the release schedule of nextcloud but i am also surprised that 12.0.2 was released that early.
Maybe there were some issues with 12.0.1 which must be resolved asap?
There was just one issue for which 12.0.2 was released:

The next regular is scheduled for September:

The other resources will be updated soon.
So, is that an urgent security fix? Or can I update another time?
If I can't trust the notification, I can't trust my installation, and I would have to take action.
If it's legit i'm ok.
For me it looks more like a bug that could break the setup of many users and therefore it is urgent. But I'm not a security expert.
It's "official" now.
https://nextcloud.com/install/
https://nextcloud.com/changelog/
Minor bugfix release.
why does it take so long for the nexcloud-box updates?
still on 11.0.3
:-/
A bug in NC 12.0.0 blocked the release, for the 12.0.2, they started testing (it's community maintained as far as I know):

Unfortunately not, the issue on github is still open and no new entries during one week.
Snaps are normally a bit behind the server release for whatever reason, this issue is exacerbating it
[Resolved] I upgraded to 12.0.2 but I am getting this message after a day waiting for completion:
This Nextcloud instance is currently in maintenance mode, which may take a while.
This page will refresh itself when the Nextcloud instance is available again.
Contact your system administrator if this message persists or appeared unexpectedly.
Thank you for your patience.
is there something else I need to do?
found the path:
/var/www/html/nextcloud and Changed: 'maintenance' => true, to 'maintenance' => false,
using sudo nano config.php
reloaded the page and it allowed me to complete upgrade to 12.0.2 stable version.