Hello, I have 100% CPU used by many DB process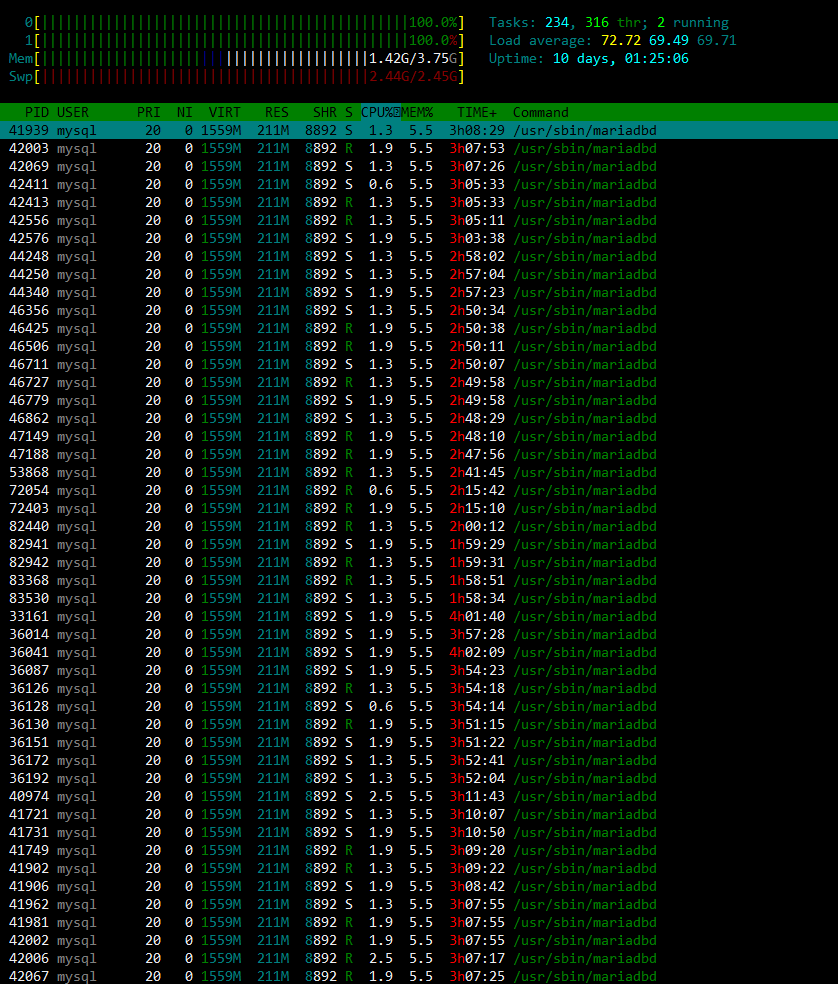 I use NC 25.0.5. on debian / apache / mariaDB. It still works, but a bit slower than usual, and desktop sync fails.
According to logs, I wonder if there is something wrong with the SQLDump of Backup App ?
Any idea where I should troubleshoot first ?
I'm not sure where i can read the mariadb logs (/var/log/mysql exists but is empty) or the NC Backup app logs ?
Thanx for your help !
In NC Logs, I see many errors, I copy below only the 4 ones at the bottom (the susbsquent are probably only linked the DB being freezed)
ERROR 1:
[no app in context] Erreur: OCP\Files\NotFoundException: /Local/backupapp/20230322225619-differential-rIoiVQ95QBexwKR/sqldump/sqldump-9f050013-9ca3-46ae-baf4-7bcd1c78c4e9/sqldump-9f050013-9ca3-46ae-baf4-7bcd1c78c4e9.zip has no owner at <<closure>>

 0. /var/www/nextcloud/lib/private/Files/Filesystem.php line 805
    OC\Files\View->getOwner()
 1. /var/www/nextcloud/apps/files_versions/lib/Storage.php line 112
    OC\Files\Filesystem::getOwner()
 2. /var/www/nextcloud/apps/files_versions/lib/Storage.php line 247
    OCA\Files_Versions\Storage::getUidAndFilename()
 3. /var/www/nextcloud/apps/files_versions/lib/Hooks.php line 82
    OCA\Files_Versions\Storage::markDeletedFile()
 4. /var/www/nextcloud/lib/private/legacy/OC_Hook.php line 106
    OCA\Files_Versions\Hooks::pre_remove_hook()
 5. /var/www/nextcloud/lib/private/Files/View.php line 1294
    OC_Hook::emit()
 6. /var/www/nextcloud/lib/private/Files/View.php line 1164
    OC\Files\View->runHooks()
 7. /var/www/nextcloud/lib/private/Files/View.php line 727
    OC\Files\View->basicOperation()
 8. /var/www/nextcloud/lib/private/Files/Node/File.php line 131
    OC\Files\View->unlink()
 9. /var/www/nextcloud/lib/private/Files/SimpleFS/SimpleFile.php line 133
    OC\Files\Node\File->delete()
10. /var/www/nextcloud/apps/backup/lib/Service/ChunkService.php line 957
    OC\Files\SimpleFS\SimpleFile->delete()
11. /var/www/nextcloud/apps/backup/lib/Service/PackService.php line 200
    OCA\Backup\Service\ChunkService->removeChunkFile()
12. /var/www/nextcloud/apps/backup/lib/Cron/Manage.php line 173
    OCA\Backup\Service\PackService->packPoint()
13. /var/www/nextcloud/apps/backup/lib/Cron/Manage.php line 119
    OCA\Backup\Cron\Manage->manage()
14. /var/www/nextcloud/lib/private/BackgroundJob/Job.php line 54
    OCA\Backup\Cron\Manage->run()
15. /var/www/nextcloud/lib/private/BackgroundJob/TimedJob.php line 60
    OC\BackgroundJob\Job->execute()
16. /var/www/nextcloud/cron.php line 152
    OC\BackgroundJob\TimedJob->execute()

at 2023-03-23T22:11:40+00:00

ERROR 2 :
[no app in context] Erreur: Sabre\DAV\Exception\BadRequest: Taille du fichier attendue : 7420045 octets mais taille du fichier lue (depuis le client Nextcloud) et écrit (dans le stockage Nextcloud) : 3014656 octets. Cela peut être un problème de réseau au niveau du client ou un problème de stockage au niveau du serveur. at <<closure>>

0. /var/www/nextcloud/apps/dav/lib/Connector/Sabre/Directory.php line 151
   OCA\DAV\Connector\Sabre\File->put()
1. /var/www/nextcloud/3rdparty/sabre/dav/lib/DAV/Server.php line 1098
   OCA\DAV\Connector\Sabre\Directory->createFile()
2. /var/www/nextcloud/3rdparty/sabre/dav/lib/DAV/CorePlugin.php line 504
   Sabre\DAV\Server->createFile()
3. /var/www/nextcloud/3rdparty/sabre/event/lib/WildcardEmitterTrait.php line 89
   Sabre\DAV\CorePlugin->httpPut()
4. /var/www/nextcloud/3rdparty/sabre/dav/lib/DAV/Server.php line 472
   Sabre\DAV\Server->emit()
5. /var/www/nextcloud/3rdparty/sabre/dav/lib/DAV/Server.php line 253
   Sabre\DAV\Server->invokeMethod()
6. /var/www/nextcloud/3rdparty/sabre/dav/lib/DAV/Server.php line 321
   Sabre\DAV\Server->start()
7. /var/www/nextcloud/apps/dav/lib/Server.php line 360
   Sabre\DAV\Server->exec()
8. /var/www/nextcloud/apps/dav/appinfo/v2/remote.php line 35
   OCA\DAV\Server->exec()
9. /var/www/nextcloud/remote.php line 171
   require_once("/var/www/nextcl ... p")

PUT /remote.php/dav/files/ValouH/Photos%20Valentin/2023/Malaisie%202023/4%20-%20Penang%20Fev%202023/IMG_20230223_120737.jpg
from 1.32.17.81 by ValouH at 2023-03-24T08:33:28+00:00

ERROR 3:

[core] Erreur: Doctrine\DBAL\Exception: Failed to connect to the database: An exception occurred in the driver: SQLSTATE[HY000] [1040] Too many connections at <<closure>>

 0. /var/www/nextcloud/3rdparty/doctrine/dbal/src/Connection.php line 1519
    OC\DB\Connection->connect()
 1. /var/www/nextcloud/3rdparty/doctrine/dbal/src/Connection.php line 1041
    Doctrine\DBAL\Connection->getWrappedConnection()
 2. /var/www/nextcloud/lib/private/DB/Connection.php line 261
    Doctrine\DBAL\Connection->executeQuery()
 3. /var/www/nextcloud/3rdparty/doctrine/dbal/src/Query/QueryBuilder.php line 345
    OC\DB\Connection->executeQuery()
 4. /var/www/nextcloud/lib/private/DB/QueryBuilder/QueryBuilder.php line 281
    Doctrine\DBAL\Query\QueryBuilder->execute()
 5. /var/www/nextcloud/lib/private/AppConfig.php line 418
    OC\DB\QueryBuilder\QueryBuilder->execute()
 6. /var/www/nextcloud/lib/private/AppConfig.php line 183
    OC\AppConfig->loadConfigValues()
 7. /var/www/nextcloud/lib/private/AppConfig.php line 374
    OC\AppConfig->getApps()
 8. /var/www/nextcloud/lib/private/legacy/OC_App.php line 967
    OC\AppConfig->getValues()
 9. /var/www/nextcloud/lib/private/Server.php line 725
    OC_App::getAppVersions()
10. /var/www/nextcloud/lib/private/AppFramework/Utility/SimpleContainer.php line 162
    OC\Server->OC\{closure}("*** sensitive parameters replaced ***")
11. /var/www/nextcloud/3rdparty/pimple/pimple/src/Pimple/Container.php line 122
    OC\AppFramework\Utility\SimpleContainer->OC\AppFramework\Utility\{closure}("*** sensitive parameters replaced ***")
12. /var/www/nextcloud/lib/private/AppFramework/Utility/SimpleContainer.php line 129
    Pimple\Container->offsetGet()
13. /var/www/nextcloud/lib/private/ServerContainer.php line 136
    OC\AppFramework\Utility\SimpleContainer->query()
14. /var/www/nextcloud/lib/private/AppFramework/Utility/SimpleContainer.php line 57
    OC\ServerContainer->query()
15. /var/www/nextcloud/lib/private/AppFramework/Utility/SimpleContainer.php line 184
    OC\AppFramework\Utility\SimpleContainer->get()
16. /var/www/nextcloud/lib/private/AppFramework/Utility/SimpleContainer.php line 162
    OC\AppFramework\Utility\SimpleContainer->OC\AppFramework\Utility\{closure}("*** sensitive parameters replaced ***")
17. /var/www/nextcloud/3rdparty/pimple/pimple/src/Pimple/Container.php line 118
    OC\AppFramework\Utility\SimpleContainer->OC\AppFramework\Utility\{closure}("*** sensitive parameters replaced ***")
18. /var/www/nextcloud/lib/private/AppFramework/Utility/SimpleContainer.php line 129
    Pimple\Container->offsetGet()
19. /var/www/nextcloud/lib/private/ServerContainer.php line 136
    OC\AppFramework\Utility\SimpleContainer->query()
20. /var/www/nextcloud/lib/private/AppFramework/Utility/SimpleContainer.php line 57
    OC\ServerContainer->query()
21. /var/www/nextcloud/lib/private/Server.php line 1119
    OC\AppFramework\Utility\SimpleContainer->get()
22. /var/www/nextcloud/lib/private/AppFramework/Utility/SimpleContainer.php line 162
    OC\Server->OC\{closure}("*** sensitive parameters replaced ***")
23. /var/www/nextcloud/3rdparty/pimple/pimple/src/Pimple/Container.php line 122
    OC\AppFramework\Utility\SimpleContainer->OC\AppFramework\Utility\{closure}("*** sensitive parameters replaced ***")
24. /var/www/nextcloud/lib/private/AppFramework/Utility/SimpleContainer.php line 129
    Pimple\Container->offsetGet()
25. /var/www/nextcloud/lib/private/ServerContainer.php line 136
    OC\AppFramework\Utility\SimpleContainer->query()
26. /var/www/nextcloud/lib/private/AppFramework/Utility/SimpleContainer.php line 57
    OC\ServerContainer->query()
27. /var/www/nextcloud/lib/private/Server.php line 2070
    OC\AppFramework\Utility\SimpleContainer->get()
28. /var/www/nextcloud/lib/private/Files/View.php line 117
    OC\Server->getLockingProvider()
29. /var/www/nextcloud/lib/private/Server.php line 462
    OC\Files\View->__construct()
30. /var/www/nextcloud/lib/private/AppFramework/Utility/SimpleContainer.php line 162
    OC\Server->OC\{closure}("*** sensitive parameters replaced ***")
31. /var/www/nextcloud/3rdparty/pimple/pimple/src/Pimple/Container.php line 122
    OC\AppFramework\Utility\SimpleContainer->OC\AppFramework\Utility\{closure}("*** sensitive parameters replaced ***")
32. /var/www/nextcloud/lib/private/AppFramework/Utility/SimpleContainer.php line 129
    Pimple\Container->offsetGet()
33. /var/www/nextcloud/lib/private/ServerContainer.php line 136
    OC\AppFramework\Utility\SimpleContainer->query()
34. /var/www/nextcloud/lib/private/AppFramework/Utility/SimpleContainer.php line 57
    OC\ServerContainer->query()
35. /var/www/nextcloud/lib/private/Server.php line 1472
    OC\AppFramework\Utility\SimpleContainer->get()
36. /var/www/nextcloud/lib/base.php line 617
    OC\Server->boot()
37. /var/www/nextcloud/lib/base.php line 1144
    OC::init()
38. /var/www/nextcloud/index.php line 34
    require_once("/var/www/nextcloud/lib/base.php")

GET /index.php/apps/systemtags/lastused
from 192.168.1.1 at 2023-03-25T20:01:03+00:00

ERROR 4:
[no app in context] Erreur: OCP\AppFramework\QueryException: Could not resolve trashManager! Class "trashManager" does not exist at <<closure>>

 0. /var/www/nextcloud/lib/private/AppFramework/Utility/SimpleContainer.php line 133
    OC\AppFramework\Utility\SimpleContainer->resolve()
 1. /var/www/nextcloud/lib/private/ServerContainer.php line 161
    OC\AppFramework\Utility\SimpleContainer->query()
 2. /var/www/nextcloud/lib/private/AppFramework/DependencyInjection/DIContainer.php line 440
    OC\ServerContainer->query()
 3. /var/www/nextcloud/lib/private/AppFramework/Utility/SimpleContainer.php line 57
    OC\AppFramework\DependencyInjection\DIContainer->query()
 4. /var/www/nextcloud/lib/private/AppFramework/Bootstrap/FunctionInjector.php line 57
    OC\AppFramework\Utility\SimpleContainer->get()
 5. <<closure>>
    OC\AppFramework\Bootstrap\FunctionInjector->OC\AppFramework\Bootstrap\{closure}("*** sensitive parameters replaced ***")
 6. /var/www/nextcloud/lib/private/AppFramework/Bootstrap/FunctionInjector.php line 67
    array_map()
 7. /var/www/nextcloud/lib/private/AppFramework/Bootstrap/BootContext.php line 51
    OC\AppFramework\Bootstrap\FunctionInjector->injectFn()
 8. /var/www/nextcloud/apps/files_trashbin/lib/AppInfo/Application.php line 61
    OC\AppFramework\Bootstrap\BootContext->injectFn()
 9. /var/www/nextcloud/lib/private/AppFramework/Bootstrap/Coordinator.php line 190
    OCA\Files_Trashbin\AppInfo\Application->boot()
10. /var/www/nextcloud/lib/private/legacy/OC_App.php line 208
    OC\AppFramework\Bootstrap\Coordinator->bootApp()
11. /var/www/nextcloud/lib/private/legacy/OC_App.php line 141
    OC_App::loadApp()
12. /var/www/nextcloud/apps/dav/lib/AppInfo/Application.php line 205
    OC_App::loadApps()
13. /var/www/nextcloud/lib/private/AppFramework/Bootstrap/Coordinator.php line 190
    OCA\DAV\AppInfo\Application->boot()
14. /var/www/nextcloud/lib/private/legacy/OC_App.php line 208
    OC\AppFramework\Bootstrap\Coordinator->bootApp()
15. /var/www/nextcloud/lib/private/legacy/OC_App.php line 141
    OC_App::loadApp()
16. /var/www/nextcloud/lib/private/Files/SetupManager.php line 132
    OC_App::loadApps()
17. /var/www/nextcloud/lib/private/Files/SetupManager.php line 340
    OC\Files\SetupManager->setupBuiltinWrappers()
18. /var/www/nextcloud/lib/private/Files/SetupManager.php line 380
    OC\Files\SetupManager->setupRoot()
19. /var/www/nextcloud/lib/private/Files/Mount/Manager.php line 95
    OC\Files\SetupManager->setupForPath()
20. /var/www/nextcloud/lib/private/Files/View.php line 1390
    OC\Files\Mount\Manager->find()
21. /var/www/nextcloud/lib/private/Files/Node/Root.php line 205
    OC\Files\View->getFileInfo()
22. <<closure>>
    OC\Files\Node\Root->get()
23. /var/www/nextcloud/lib/private/Files/Node/LazyFolder.php line 72
    call_user_func_array()
24. /var/www/nextcloud/lib/private/Files/Node/LazyFolder.php line 149
    OC\Files\Node\LazyFolder->__call()
25. /var/www/nextcloud/lib/private/Files/AppData/AppData.php line 132
    OC\Files\Node\LazyFolder->get()
26. /var/www/nextcloud/lib/private/Template/JSCombiner.php line 88
    OC\Files\AppData\AppData->getFolder()
27. /var/www/nextcloud/lib/private/Template/JSResourceLocator.php line 125
    OC\Template\JSCombiner->process()
28. /var/www/nextcloud/lib/private/Template/JSResourceLocator.php line 77
    OC\Template\JSResourceLocator->cacheAndAppendCombineJsonIfExist()
29. /var/www/nextcloud/lib/private/Template/ResourceLocator.php line 78
    OC\Template\JSResourceLocator->doFind()
30. /var/www/nextcloud/lib/private/TemplateLayout.php line 379
    OC\Template\ResourceLocator->find()
31. /var/www/nextcloud/lib/private/TemplateLayout.php line 211
    OC\TemplateLayout::findJavascriptFiles()
32. /var/www/nextcloud/lib/private/legacy/OC_Template.php line 184
    OC\TemplateLayout->__construct()
33. /var/www/nextcloud/lib/private/Template/Base.php line 132
    OC_Template->fetchPage()
34. /var/www/nextcloud/lib/private/legacy/OC_Template.php line 333
    OC\Template\Base->printPage()
35. /var/www/nextcloud/index.php line 74
    OC_Template::printExceptionErrorPage()

GET /index.php/apps/recommendations/api/recommendations
from 192.168.1.1 at 2023-03-25T20:01:04+00:00