Support intro

Sorry to hear you're facing problems

help.nextcloud.com is for home/non-enterprise users. If you're running a business, paid support can be accessed via portal.nextcloud.com where we can ensure your business keeps running smoothly.

In order to help you as quickly as possible, before clicking Create Topic please provide as much of the below as you can. Feel free to use a pastebin service for logs, otherwise either indent short log examples with four spaces:

example


Or for longer, use three backticks above and below the code snippet:

longer
example
here


Some or all of the below information will be requested if it isn't supplied; for fastest response please provide as much as you can
Nextcloud version: 25.0.2_19.0.32
Operating system and version: TrueNAS-SCALE-22.02.4
Hello all,
My first time with the community and configuring my storage so that it is seen in NextCloud.
I am using TrueNas Scale. In the NextCloud app configuration I have mounted my storage so that it is mountable within nextcloud, as per the following screenshot.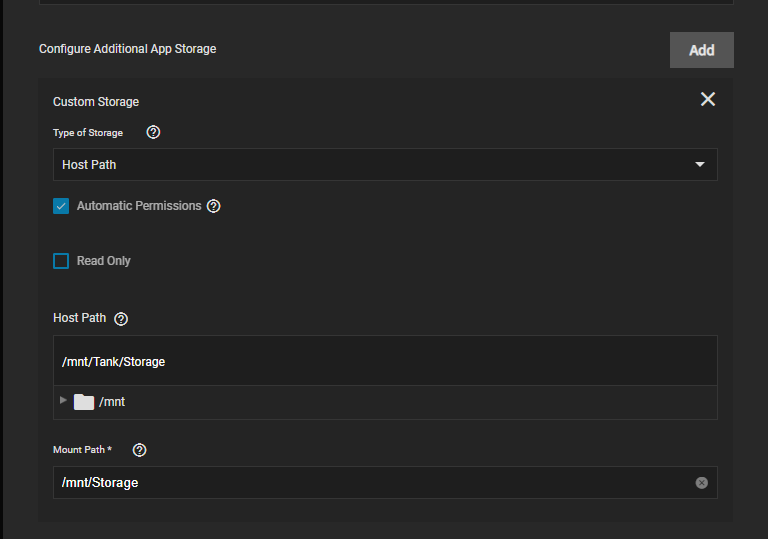 Inside NextCloud>Administration I can setup my External Storage as "Local" and I get the green tick to suggest all is fine.
if I then go to browse the External Storage files, I can see my storage root directory and all its subdirectories, however when I open any of the directories, it is empty.
I however notice that under "Personal Settings", I can see the local storage I have added, but notice if I click on the tick, it gives me an error to check the configuration.
This looks to be some sort of permission error, but I am not sure what I am missing ? I ensured when setting up the local storage inside nextcloud that admin and the admin group had permission under the "Available" section.
Any help is greatly appreciated.
Many thanks,
P