Hi
I'm trying to set up Nextcloud 19.0.1 on an aarch64 RockPro64/Manjaro-Linux using nginx + php-fpm and postgres.
These are the steps I repeat and always get the same result:
drop/create an empty 'nextcloud' database
create a fresh data dir
create a base config (see [1] up until "dbtype")
run the installation via the web interface
This is how the login page looks afterwards: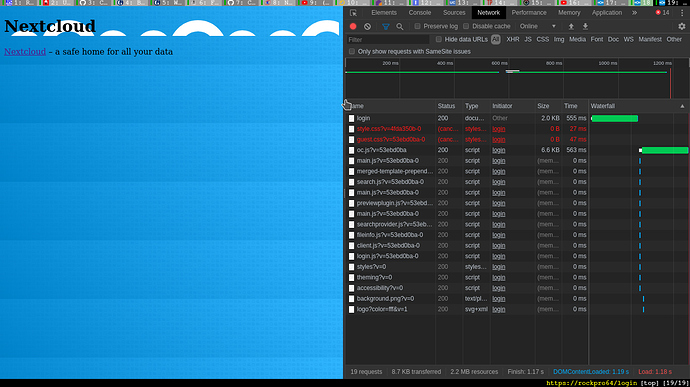 The config file looks correct to me [1].
I noticed that the checkboxes on the installation page have no effect and the installation page itself is really plain.
In nextcloud.log, there are two entries like this:
Could not find resource js/setup.js to load
I've looked at forum posts describing problems loading CSS in older versions that we're solved by updating or reinstalling.
I'm a bit lost here - what can I do?
kind regards
[1] config file after installation
$CONFIG = array (
  'datadirectory' => '/mnt/nextcloud/data',
  'apps_paths' => 
  array (
    0 => 
    array (
      'path' => '/usr/share/webapps/nextcloud/apps',
      'url' => '/apps',
      'writable' => false,
    ),
    1 => 
    array (
      'path' => '/mnt/nextcloud/apps',
      'url' => '/apps2',
      'writable' => true,
    ),
  ),
  'allow_local_remote_servers' => true,
  'trusted_domains' =>
    [
      'rockpro64',
      'nextcloud.redacted.de',
    ],
  'dbtype' => 'pgsql',
  'dbname' => 'nextcloud',
  'dbhost' => 'localhost',
  'dbport' => '5432',
  'dbtableprefix' => 'oc_',
  'dbuser' => 'nextcloud',
  'dbpassword' => 'redacted',
  'instanceid' => 'redacted',
  'passwordsalt' => 'redacted',
  'secret' => 'redacted',
  'version' => '19.0.1.1',
  'overwrite.cli.url' => 'https://rockpro64',
  'installed' => true,
);