Hello
I'm planing to replace Horde Webmail with Nextcloud. While testing the Mail App, I'm facing a very strange issue.
When fetching mails from an IMAP server, "pantom messages" are shown (question mark with no subject). The real mails are shown too, so the phantom mails don't seem to be related to them.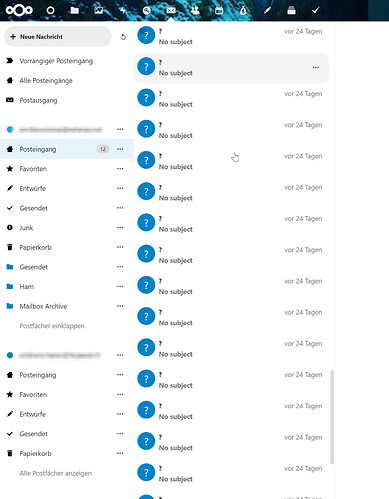 When the mails are sorted by date, the shown sequence is the following:
Mails received after adding the account in the Mail App
Phantom mails
Existing mails before the account was added in the Mail App
I've also tried to move the existing mails to another folder in order to delete the phantom mails, but they reapeared after a while
First, I thought there could be a problem with my home mail server, but I've tried to fetch mails from external servers too (e. g. ISP mail server) and the result was the same
I have no issues when using Horde, as the mails are shown correctly. So I think it's a Nextcloud Mail App related issue.
The other apps seem to work fine and the system check returns "all OK"

This is the information about my Nextcloud server
Nextcloud version (eg, 20.0.5): 24.04
Operating system and version (eg, Ubuntu 20.04): Ubuntu Server 22.04.1 LTS
Apache or nginx version (eg, Apache 2.4.25): 2.4.52 (Ubuntu)
PHP version (eg, 7.4): 8.1
Steps to replicate it:
Go to Mail App
Add new mail account
Wait until mails are displayed
Thank you in advance for your help or hints
Best regards