Hello everyone,
I have followed this guide to install and setup Nextcloud on FreeNas:
https://www.youtube.com/watch?v=60xwnoIrUTI
And got it running and was able to update to from 10.0.1 to 10.0.6 but can't go any further unless PHP is updated (I don't know if that is a problem or not). I have the latest IOS app installed and am able to connect to the server but I keep getting the errors below when trying to refresh. No files or folders are showing up in the app.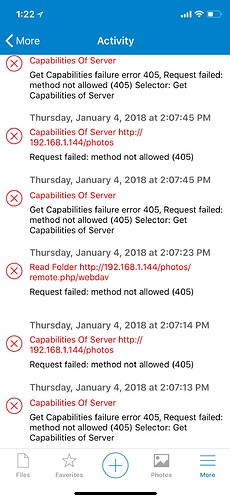 I can't get it to sync photos either. I have adjusted the settings as follows:
In the Upload settings, the destination folder is set to "/". I have tried to change it by choosing to use the Photos folder as a destination but it keeps reverting. If I select the "/" to change it, it gives me the 405 error as above

In auto upload, I have enabled just about every setting but when I enable "Upload the whole camera roll" it gives me the error "Error creating subfolders".
I do not have https or ssh set up. I just want to get it working internally first but I would like to have remote access eventually.
As for the web app, it seems to be functioning correctly. I added an external storage where our photos are located and I can browse to them within the web app just fine. I just can't get the IOS app to connect or upload anything. Any help would be greatly appreciated!