Hi,
Can anyone report a working configuration for NC13 on Nginx for video (mp4) streaming on iOS Safari browser ?
So far I always have get the same result (see screenshot) : "The video could not be loaded, either because the server or network failed or because the format is not supported"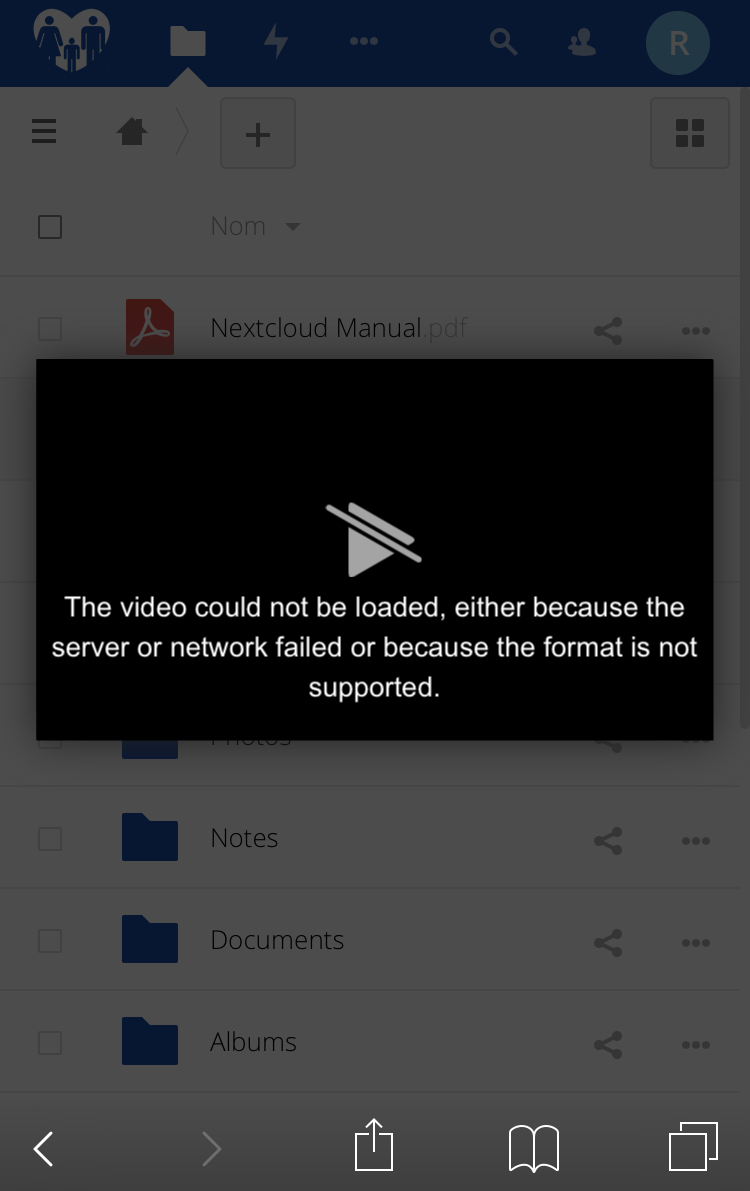 Video streaming works with my config in windows pc browsers, with byte-range requests enabled.
Is it a video format issue? No, the issue occurs with the default Nextcloud.mp4 video.
Is it a network or server issue? No - everything works fine except videos on iOS Safari.
Is it the byte range request issue ? No, they are functional on my config.
Is it a NC13 issue? No or in conjunction with Nginx - I'm able to stream my videos on Safari/iOS from the NC13 Demo instance that runs with Apache.
So far I tried with the Nginx default configuration from NC13 Admin docs and the configuration proposed by C. Rieger (https://www.c-rieger.de/nextcloud-13-installation-guide/)
Nextcloud version : 13.0.0
Operating system and version : Raspbian stretch
PHP version : 7.0.27
Nginx version : nginx/1.13.9 built by gcc 6.3.0 20170516 (Raspbian 6.3.0-18+rpi1+deb9u1) built with OpenSSL 1.1.0f 25 May 2017 TLS SNI support enabled configure arguments: --prefix=/etc/nginx --sbin-path=/usr/sbin/nginx --modules-path=/usr/lib/nginx/modules --conf-path=/etc/nginx/nginx.conf --error-log-path=/var/log/nginx/error.log --http-log-path=/var/log/nginx/access.log --pid-path=/var/run/nginx.pid --lock-path=/var/run/nginx.lock --http-client-body-temp-path=/var/cache/nginx/client_temp --http-proxy-temp-path=/var/cache/nginx/proxy_temp --http-fastcgi-temp-path=/var/cache/nginx/fastcgi_temp --http-uwsgi-temp-path=/var/cache/nginx/uwsgi_temp --http-scgi-temp-path=/var/cache/nginx/scgi_temp --user=nginx --group=nginx --with-compat --with-file-aio --with-threads --with-http_addition_module --with-http_auth_request_module --with-http_dav_module --with-http_flv_module --with-http_gunzip_module --with-http_gzip_static_module --with-http_mp4_module --with-http_random_index_module --with-http_realip_module --with-http_secure_link_module --with-http_slice_module --with-http_ssl_module --with-http_stub_status_module --with-http_sub_module --with-http_v2_module --with-mail --with-mail_ssl_module --with-stream --with-stream_realip_module --with-stream_ssl_module --with-stream_ssl_preread_module --with-cc-opt='-g -O2 -fdebug-prefix-map=/usr/local/src/nginx-1.13.9=. -specs=/usr/share/dpkg/no-pie-compile.specs -fstack-protector-strong -Wformat -Werror=format-security -Wp,-D_FORTIFY_SOURCE=2 -fPIC' --with-ld-opt='-specs=/usr/share/dpkg/no-pie-link.specs -Wl,-z,relro -Wl,-z,now -Wl,--as-needed -pie' --add-module=/usr/local/src/nginx-1.13.9/debian/modules/ngx_cache_purge-2.3
EDIT : I tried with iOS 11.2.6 (iPhone7) and iOS 10.3.3 (iPad 4th Gen.)