Hello All,
i tried to import some contacts from my phone so i :
exported them from the phone via the contact app (Samsung) to vcf file
imported via the contact module in Nextcloud
and i have a notification that says : This contact has not been created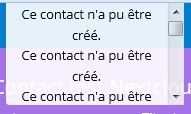 Same problem appears when i try to import a single contact.
Are there any logs i can browse to help?
Thanks in advance for your help
Lionel
Edit : I noticed that this module exports in VCARD 3.0 version and i tried to import with VCARD 2.1. Could it be a version problem?