Support intro

Sorry to hear you're facing problems

If you're urgently looking for support to keep your business running, consider checking out our paid support options.

In order to help you as quickly as possible, before clicking Create Topic please provide as much of the below as you can. Feel free to use a pastebin service for logs, otherwise either indent short log examples with four spaces:

example


Or for longer, use three backticks above and below the code snippet:

longer
example
here


Remember, the below information may be requested if it isn't supplied; for fastest response please provide as much as you can

Please delete everything above when creating your topic, just provide the following:
Nextcloud version (eg, 12.0.2): 11
Operating system and version (eg, Ubuntu 17.04): macOS 10.11.6
Apache or nginx version (eg, Apache 2.4.25):
PHP version (eg, 7.1): 7.0
The issue you are facing: Upgrade (? -> 11) is stuck on step "Starting code integrity check".
Is this the first time you've seen this error? (Y/N): Y
Steps to replicate it:
I started the upgrade via the web interface, it faced me whether to keep the maintenance mode enabled or not -> the upgrade was successful, but not completed…
switched to the command line with sudo -u _www php occ upgrade
Retried step 2 multiple times, tried things in between, I'm stuck on this screen: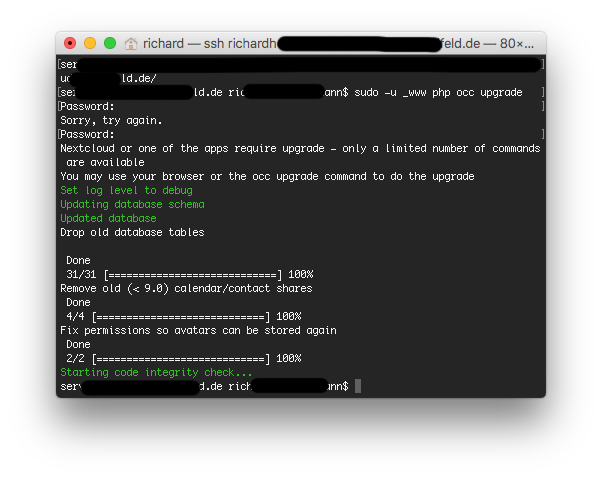 The output of your Nextcloud log in Admin > Logging:
pls tell me where to find in the file system

The output of your config.php file in /path/to/nextcloud (make sure you remove any identifiable information!):
<?php
$CONFIG = array (
  'instanceid' => 'ozz4m',
  'passwordsalt' => 'NpJzzzz+C',
  'secret' => 'q40PTYuRzzzzzzfQnZ1',
  'trusted_domains' => 
  array (
    0 => 'clzzzd.de',
  ),
  'datadirectory' => '/Vzzzzalfeld.de/data',
  'overwrite.cli.url' => 'https://clzzzzld.de',
  'dbtype' => 'sqlite3',
  'version' => '9.1.6.1',
  'logtimezone' => 'UTC',
  'installed' => true,
  'ldapIgnoreNamingRules' => false,
  'ldapProviderFactory' => '\\OCA\\User_LDAP\\LDAPProviderFactory',
  'mail_from_address' => 'sjzzzud',
  'mail_smtpmode' => 'php',
  'mail_domain' => 'szzzzzzeld.de',
  'maintenance' => true,
  'loglevel' => 0,
  'updater.secret' => '$2y$1zzzzzbbsuCoiKOJ/ohp.',
);

The output of your Apache/nginx/system log in /var/log/____:
[Wed Jan 03 16:46:22.381584 2018] [authz_core:error] [pid 10659] [client 841.206:51875] AH01630: client denied by server configuration: /Volumes/My Book Thunderbolt Duo/Library/Server/Web/Data/Sites/Default/
[Wed Jan 03 16:48:22.610259 2018] [authz_core:error] [pid 10698] [client 806:51896] AH01630: client denied by server configuration: /Volumes/My Book Thunderbolt Duo/Library/Server/Web/Data/Sites/Default/

I guess, thats the wrong log location…