Hi There,
Looking for some help if someone has come across this error message or configured a server like this in the past - perhaps for the first time ever a quick Google search of the error message I'm getting didn't really turn up much.
I have a Nextcloud server running on Ubuntu 20.04 LTS with Apache, PHP, MariaDB and Redis that I'm trying to proxy through CloudFlare for security purposes. I've followed the guidance from Autoize to disable CloudFlare's caching and performance features and everything is working great with the exception of an error message when uploading files from the Windows desktop client. Note that while the sync client throws tons of errors, everything appears to be working fine.
When uploading files from the Windows desktop client (3.3.2) I'm getting the following error message "Conflict when uploading some files to a folder. Those, conflicted, are going to get cleared!"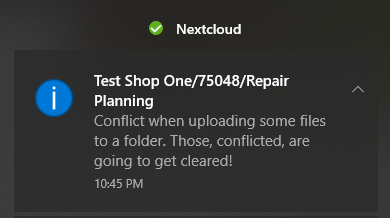 Thanks!