I launch Onlyoffice on the iPhone and edit the document. The moment the user touches the screen, every element of the screen is enlarged to more than twice the size. Even if the focus point is at the bottom, the display itself often continues to display the top.
This is not only the NC18's Onlyoffice, but I was also testing the Docker version of Onlyoffice(Document Server) in the NC17 era, and that was the same phenomenon. I also contacted the Onlyoffice forum, but he was unable to reproduce and suspected NC's ONLYOFFICE app.
I have confirmed this behavior on iPhone SE / 8 (iOS 13.3), iPhone 5s (iOS 12.4.4).
Everyone use Mobile Safari. It happens even if user use another browser.
Magnification when the user touches the screen.

User deliberately shrinks it (pinch in)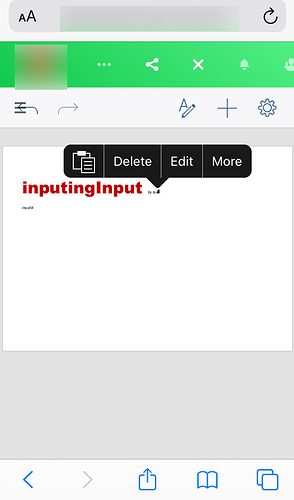 For iPhone SE, the user icon on the NC header bar is off the screen. On iPhone 8, it is displayed in the area without any problem.
I have also verified this phenomenon on iPad Air2. The screen is not enlarged on the iPad, but the keyboard does not appear when the user touches the screen except for the US keyboard. At this time, touch the regional menu at the lower right of Onlyoffice and a keyboard will appear.
This only happens for "Document". No problem with spreadsheets.
---
CentOS7.7, nginx 1.16.1, PHP7.3.14, ONLYOFFICE 4.1.2, Community Server 0.1.3