Nextcloud version: 21.0.4.1
Operating system and version: Ubuntu 20.04.2 LTS
Apache or nginx version: Apache/2.4.41
PHP version: 7.4
Hello everyone,
A user noticed that if he wanted to share a folder, for example, and he entered the name, the user was always displayed twice. Once with the email address in brackets and once without. If you select the user without mail, it works, with mail there is an error. I have integrated the users via LDAP. Does anyone have any idea what could be the cause?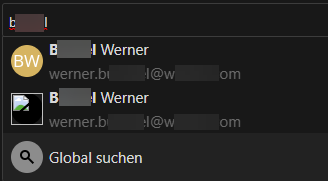 Thanks in advance for your help.
Bye, Sascha