I'm trying to use the web interface to download a file named info. However, instead of receiving the file, I receive a file called info.dms, and it's filled with HTML.
Here's what the .dms file looks like when opened in a browser: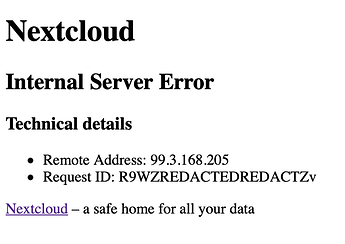 Is this a misconfiguration on my end? No errors are logged, either into the Nextcloud error console or into the Apache error log.
Extension-free files sync just fine using the Desktop client. Right now I'm trying to access an earlier version of this file, though, so I'd really like to find a solution to this issue.
---
Details
Nextcloud version: 18.0.3
Operating system and version: Ubuntu 18.04.4
Apache or nginx version: Apache/2.4.29 2020-03-13T12:26:16
PHP version: PHP 7.2.24-0ubuntu0.18.04.3
The issue you are facing: Trying to download files who don't have extensions in their names just produces junk. I can download versions of other files just fine.
Is this the first time you've seen this error? Yes
Steps to replicate it:
Try to download a file without an extension in the name. For example, info.
Receive a file named info.dms, not info.
The file contents consist of an HTML error.
The output of your Nextcloud log in Admin > Logging:
Nothing is logged to the admin console
The output of your config.php file in /path/to/nextcloud (make sure you remove any identifiable information!):
<?php
$CONFIG = array (
  'instanceid' => 'ocornotornotllp',
  'passwordsalt' => 'RNOTHAPPENING',
  'secret' => 't/CBLABLABLA',
  'trusted_domains' => 
  array (
    0 => 'nextcloud.example.com',
  ),
  'datadirectory' => '/mnt/nextcloud/nextcloud/data',
  'overwrite.cli.url' => 'https://nextcloud.example.com',
  'dbtype' => 'mysql',
  'version' => '18.0.3.0',
  'dbname' => 'nextcloud',
  'dbhost' => 'localhost',
  'dbport' => '',
  'dbtableprefix' => 'oc_',
  'mysql.utf8mb4' => true,
  'dbuser' => 'NAH',
  'dbpassword' => 'NOPE',
  'installed' => true,
  'htaccess.RewriteBase' => '/',
  'memcache.local' => '\\OC\\Memcache\\APCu',
  'memcache.locking' => '\\OC\\Memcache\\Redis',
  'filelocking.enabled' => 'true',
  'redis' => 
  array (
    'host' => '/var/run/redis/redis.sock',
    'port' => 0,
    'timeout' => 0.0,
  ),
  'maintenance' => false,
  'theme' => '',
  'loglevel' => 2,
  'updater.release.channel' => 'stable',
);

The output of your Apache/nginx/system log in /var/log/apache2/access.log:
99.3.168.205 - bronson [06/Apr/2020:22:30:27 +0000] "GET /remote.php/dav/files/bronson/zelib/info HTTP/1.1" 200 13340 "-" "Mozilla/5.0 (Macintosh) mirall/2.6.4stable (build 20200303) (Nextcloud)"