hi,
i meet one pb on a fresh setup collabora CODE ,
my test infra (4 independants servers) :
1srv : Haproxy in front,it's only for Nextcloud
1srv : Nextcloud
1srv : NFS only for host the data for Nextcloud
1srv : Collabora with apache proxy , ssl and terminaison « true ».
I try a lots off differents setup , with deb setup, docker setup , behind my haproxy, with or without apache reverse proxy but each time after activate the plugin collabora in NC et entre my domain , when i try to read on file.odt i have this error:
failed to read document from storage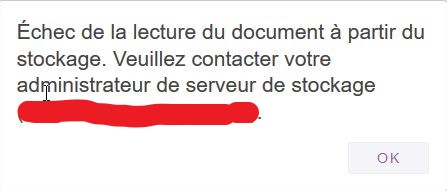 On my logs docker i have this error:
wsd-00006-00036 2020-04-26 17:46:56.229490 [ docbroker_001 ] ERR Cannot get file info from WOPI storage uri [https://XXXXXXXXXXXXXX/nextcloud/index.php/apps/richdocuments/wopi/files/3175_ocrquvhktvm1?access_token=t4corPuQI2iUJwzE4acrEhNNTCPfm3n0&access_token_ttl=0]. Error: Timeout: connect timed out: 193.48.132.194:443| wsd/Storage.cpp:564
I think its because i use one independant NFS srv. … but i have no idea how resolve this pb
I see this https://github.com/nextcloud/richdocuments/commit/32755343edce1bb5ab05aa29ba057f39ce5df7f3 but the file change with version of collabora and its old.
thx