Hello,
When I used the app, I found that I couldn't get the mailing list normally and have been getting it all the time.
I don't know whether the application has certain requirements for the environment.
The following are the relevant configurations that I think maybe useful:
php =>7.3.31	
mysql => 5.6.50

nextcloud => 22.2.3
mail app => 1.11.4

I really appreciate any help you can provide.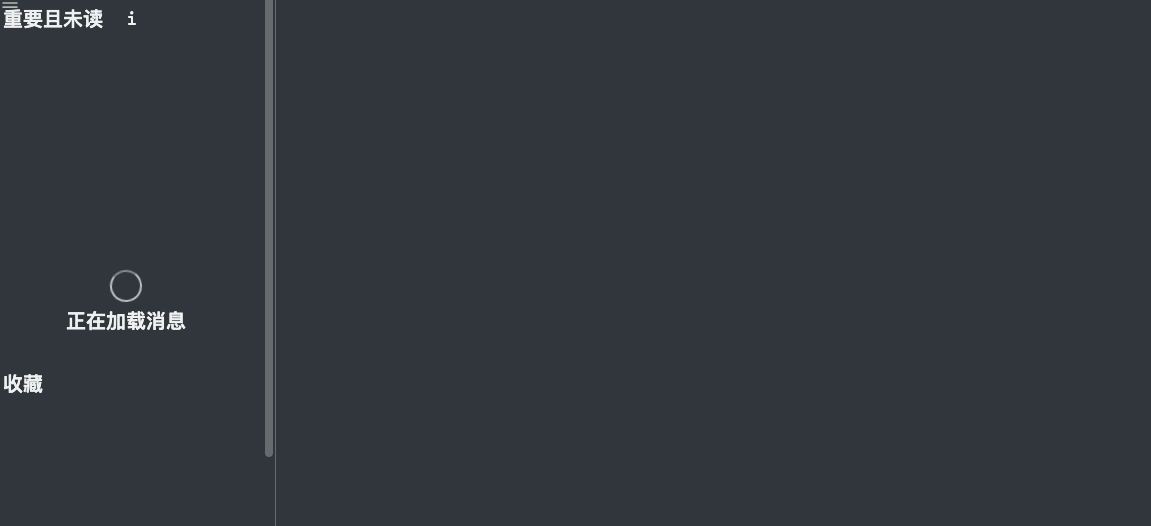 {
    "reqId": "***",
    "level": 3,
    "time": "2021-12-17T23:38:02+00:00",
    "remoteAddr": "192.168.50.1",
    "user": "***",
    "app": "mail",
    "method": "POST",
    "url": "/index.php/apps/mail/api/mailboxes/18/sync",
    "message": "Can not get messages from mailbox INBOX: Could not open mailbox \"INBOX\".",
    "userAgent": "**",
    "version": "22.2.3.0",
    "exception": {
        "Exception": "OCA\\Mail\\Exception\\ServiceException",
        "Message": "Can not get messages from mailbox INBOX: Could not open mailbox \"INBOX\".",
        "Code": 0,
        "Trace": [
            {
                "file": "/***/apps/mail/lib/Service/Sync/ImapToDbSynchronizer.php",
                "line": 226,
                "function": "runInitialSync",
                "class": "OCA\\Mail\\Service\\Sync\\ImapToDbSynchronizer",
                "type": "->",
                "args": [
                    {
                        "__class__": "OCA\\Mail\\Account"
                    },
                    {
                        "id": 18,
                        "__class__": "OCA\\Mail\\Db\\Mailbox"
                    },
                    {
                        "__class__": "OC\\AppFramework\\ScopedPsrLogger"
                    }
                ]
            },
            {
                "file": "/***/apps/mail/lib/Service/Sync/SyncService.php",
                "line": 127,
                "function": "sync",
                "class": "OCA\\Mail\\Service\\Sync\\ImapToDbSynchronizer",
                "type": "->",
                "args": [
                    {
                        "__class__": "OCA\\Mail\\Account"
                    },
                    {
                        "id": 18,
                        "__class__": "OCA\\Mail\\Db\\Mailbox"
                    },
                    {
                        "__class__": "OC\\AppFramework\\ScopedPsrLogger"
                    },
                    42,
                    [],
                    true
                ]
            },
            {
                "file": "/***/apps/mail/lib/Controller/MailboxesController.php",
                "line": 161,
                "function": "syncMailbox",
                "class": "OCA\\Mail\\Service\\Sync\\SyncService",
                "type": "->",
                "args": [
                    {
                        "__class__": "OCA\\Mail\\Account"
                    },
                    {
                        "id": 18,
                        "__class__": "OCA\\Mail\\Db\\Mailbox"
                    },
                    42,
                    [],
                    false,
                    "is:pi-starred"
                ]
            },
            {
                "file": "/***/lib/private/AppFramework/Http/Dispatcher.php",
                "line": 217,
                "function": "sync",
                "class": "OCA\\Mail\\Controller\\MailboxesController",
                "type": "->",
                "args": [
                    18,
                    [],
                    true,
                    "is:pi-starred"
                ]
            },
            {
                "file": "/***/lib/private/AppFramework/Http/Dispatcher.php",
                "line": 126,
                "function": "executeController",
                "class": "OC\\AppFramework\\Http\\Dispatcher",
                "type": "->",
                "args": [
                    {
                        "__class__": "OCA\\Mail\\Controller\\MailboxesController"
                    },
                    "sync"
                ]
            },
            {
                "file": "/***/lib/private/AppFramework/App.php",
                "line": 156,
                "function": "dispatch",
                "class": "OC\\AppFramework\\Http\\Dispatcher",
                "type": "->",
                "args": [
                    {
                        "__class__": "OCA\\Mail\\Controller\\MailboxesController"
                    },
                    "sync"
                ]
            },
            {
                "file": "/***/lib/private/Route/Router.php",
                "line": 302,
                "function": "main",
                "class": "OC\\AppFramework\\App",
                "type": "::",
                "args": [
                    "OCA\\Mail\\Controller\\MailboxesController",
                    "sync",
                    {
                        "__class__": "OC\\AppFramework\\DependencyInjection\\DIContainer"
                    },
                    {
                        "id": "18",
                        "_route": "mail.mailboxes.sync"
                    }
                ]
            },
            {
                "file": "/***/lib/base.php",
                "line": 1006,
                "function": "match",
                "class": "OC\\Route\\Router",
                "type": "->",
                "args": [
                    "/apps/mail/api/mailboxes/18/sync"
                ]
            },
            {
                "file": "/***/index.php",
                "line": 36,
                "function": "handleRequest",
                "class": "OC",
                "type": "::",
                "args": []
            }
        ],
        "File": "/***/apps/mail/lib/Service/Sync/ImapToDbSynchronizer.php",
        "Line": 298,
        "Previous": {
            "Exception": "Horde_Imap_Client_Exception",
            "Message": "Could not open mailbox \"INBOX\".",
            "Code": 200,
            "Trace": [
                {
                    "file": "/***/apps/mail/vendor/pear-pear.horde.org/Horde_Imap_Client/Horde/Imap/Client/Base.php",
                    "line": 1051,
                    "function": "_openMailbox",
                    "class": "Horde_Imap_Client_Socket",
                    "type": "->",
                    "args": [
                        {
                            "__class__": "Horde_Imap_Client_Mailbox"
                        },
                        1
                    ]
                },
                {
                    "file": "/***/apps/mail/vendor/pear-pear.horde.org/Horde_Imap_Client/Horde/Imap/Client/Base.php",
                    "line": 2232,
                    "function": "openMailbox",
                    "class": "Horde_Imap_Client_Base",
                    "type": "->",
                    "args": [
                        {
                            "__class__": "Horde_Imap_Client_Mailbox"
                        },
                        1
                    ]
                },
                {
                    "file": "/***/apps/mail/lib/IMAP/MessageMapper.php",
                    "line": 109,
                    "function": "search",
                    "class": "Horde_Imap_Client_Base",
                    "type": "->",
                    "args": [
                        "INBOX",
                        {
                            "__class__": "Horde_Imap_Client_Search_Query"
                        },
                        {
                            "results": [
                                4,
                                3,
                                1
                            ],
                            "_query": {
                                "charset": null,
                                "exts": [],
                                "query": {
                                    "__class__": "Horde_Imap_Client_Data_Format_List"
                                }
                            }
                        }
                    ]
                },
                {
                    "file": "/***/apps/mail/lib/Service/Sync/ImapToDbSynchronizer.php",
                    "line": 294,
                    "function": "findAll",
                    "class": "OCA\\Mail\\IMAP\\MessageMapper",
                    "type": "->",
                    "args": [
                        {
                            "cacheFields": {
                                "9": "HICenv",
                                "10": "HICflags",
                                "8": "HIChdrs",
                                "11": "HICdate",
                                "12": "HICsize",
                                "1": "HICstruct"
                            },
                            "changed": true,
                            "statuscache": true,
                            "__class__": "Horde_Imap_Client_Socket"
                        },
                        "INBOX",
                        5000,
                        0
                    ]
                },
                {
                    "file": "/***/apps/mail/lib/Service/Sync/ImapToDbSynchronizer.php",
                    "line": 226,
                    "function": "runInitialSync",
                    "class": "OCA\\Mail\\Service\\Sync\\ImapToDbSynchronizer",
                    "type": "->",
                    "args": [
                        {
                            "__class__": "OCA\\Mail\\Account"
                        },
                        {
                            "id": 18,
                            "__class__": "OCA\\Mail\\Db\\Mailbox"
                        },
                        {
                            "__class__": "OC\\AppFramework\\ScopedPsrLogger"
                        }
                    ]
                },
                {
                    "file": "/***/apps/mail/lib/Service/Sync/SyncService.php",
                    "line": 127,
                    "function": "sync",
                    "class": "OCA\\Mail\\Service\\Sync\\ImapToDbSynchronizer",
                    "type": "->",
                    "args": [
                        {
                            "__class__": "OCA\\Mail\\Account"
                        },
                        {
                            "id": 18,
                            "__class__": "OCA\\Mail\\Db\\Mailbox"
                        },
                        {
                            "__class__": "OC\\AppFramework\\ScopedPsrLogger"
                        },
                        42,
                        [],
                        true
                    ]
                },
                {
                    "file": "/***/apps/mail/lib/Controller/MailboxesController.php",
                    "line": 161,
                    "function": "syncMailbox",
                    "class": "OCA\\Mail\\Service\\Sync\\SyncService",
                    "type": "->",
                    "args": [
                        {
                            "__class__": "OCA\\Mail\\Account"
                        },
                        {
                            "id": 18,
                            "__class__": "OCA\\Mail\\Db\\Mailbox"
                        },
                        42,
                        [],
                        false,
                        "is:pi-starred"
                    ]
                },
                {
                    "file": "/***/lib/private/AppFramework/Http/Dispatcher.php",
                    "line": 217,
                    "function": "sync",
                    "class": "OCA\\Mail\\Controller\\MailboxesController",
                    "type": "->",
                    "args": [
                        18,
                        [],
                        true,
                        "is:pi-starred"
                    ]
                },
                {
                    "file": "/***/lib/private/AppFramework/Http/Dispatcher.php",
                    "line": 126,
                    "function": "executeController",
                    "class": "OC\\AppFramework\\Http\\Dispatcher",
                    "type": "->",
                    "args": [
                        {
                            "__class__": "OCA\\Mail\\Controller\\MailboxesController"
                        },
                        "sync"
                    ]
                },
                {
                    "file": "/***/lib/private/AppFramework/App.php",
                    "line": 156,
                    "function": "dispatch",
                    "class": "OC\\AppFramework\\Http\\Dispatcher",
                    "type": "->",
                    "args": [
                        {
                            "__class__": "OCA\\Mail\\Controller\\MailboxesController"
                        },
                        "sync"
                    ]
                },
                {
                    "file": "/***/lib/private/Route/Router.php",
                    "line": 302,
                    "function": "main",
                    "class": "OC\\AppFramework\\App",
                    "type": "::",
                    "args": [
                        "OCA\\Mail\\Controller\\MailboxesController",
                        "sync",
                        {
                            "__class__": "OC\\AppFramework\\DependencyInjection\\DIContainer"
                        },
                        {
                            "id": "18",
                            "_route": "mail.mailboxes.sync"
                        }
                    ]
                },
                {
                    "file": "/***/lib/base.php",
                    "line": 1006,
                    "function": "match",
                    "class": "OC\\Route\\Router",
                    "type": "->",
                    "args": [
                        "/apps/mail/api/mailboxes/18/sync"
                    ]
                },
                {
                    "file": "/***/index.php",
                    "line": 36,
                    "function": "handleRequest",
                    "class": "OC",
                    "type": "::",
                    "args": []
                }
            ],
            "File": "/***/apps/mail/vendor/pear-pear.horde.org/Horde_Imap_Client/Horde/Imap/Client/Socket.php",
            "Line": 1242
        },
        "CustomMessage": "Can not get messages from mailbox INBOX: Could not open mailbox \"INBOX\"."
    }
}