Yes.
There are 50 episodes. Which ones don't work? The bigger size?
all of the videos in that playlist and the playlist world history
Ok.
I'll have a look and let you know…
Can remove the link if you want to…
How come are the files so big, i.e. over 1GB…
The biggest I could find in that list was 310MB, very standard encoding…

Hmmm…
You are right, I get the same error when playing this file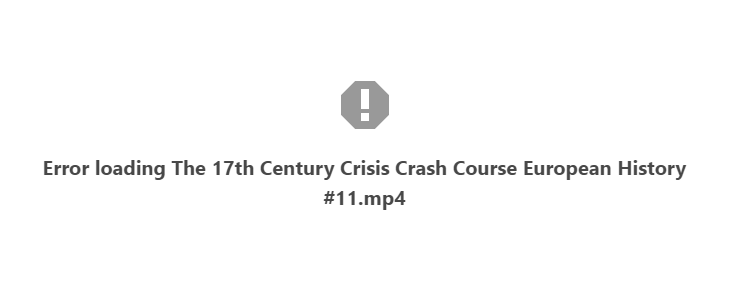 the error is there regardless where the file is located, even if alone in its own folder…
I wonder what the issue is? @henry dose your log file match mine with the error and what is your version info?
But I do have a move that is over 1GB the NC conference and it plays fine.
It's not a container issue…
Re-coding into MKV and leaving both audio and video streams as-is does not help.
Same error message… Will try to split them and play one by one…
Ok, I have no clue what you said but ok.
Same error - for both, audio and video separately - when trying to playback…
Do you think the what the video was download could have an issue? because I have a Video file that is 1.1 GB and it plays fine?
It actually might have some sort of copy protection…
But it has no problems playing back in Windows player!
Standard AAC audio codec, AVC (H264) video, nothing special.
No idea what's wrong…
There are two ways to fix this:
Simplest - rename it.
Make the name short and with no spaces. Worked for me.
Second: recode the audio to AAC (FDK) and NVidia (H264)
Don't know how they are different. But when done, it plays even with original long name…
Go figure…
EDIT:
The smallest (introduction) file of under 100MB works as-is just fine, no recoding, no renaming…
EDIT 2:
It looks like the symbol # is the offending one in the name!
Remove it and it plays… This covers both cases above…
The introduction file did not have it.
The other one lost it when renamed…
Remove the symbol # from the file name and it will play…
Remove it in Sturtz Cloud (my instance of Nextcoud)?
Now my question is why? What is about the # that makes it special?
That's a philosophical question, i.e. does not have an answer… Was touched upon here

Ok thank you so much for your help