Support intro

Sorry to hear you're facing problems

help.nextcloud.com is for home/non-enterprise users. If you're running a business, paid support can be accessed via portal.nextcloud.com where we can ensure your business keeps running smoothly.

In order to help you as quickly as possible, before clicking Create Topic please provide as much of the below as you can. Feel free to use a pastebin service for logs, otherwise either indent short log examples with four spaces:

example


Or for longer, use three backticks above and below the code snippet:

longer
example
here


Some or all of the below information will be requested if it isn't supplied; for fastest response please provide as much as you can
Nextcloud version (eg, 12.0.2):13.05
Operating system and version (eg, Ubuntu 17.04): Debian 9.5
Apache or nginx version (eg, Apache 2.4.25): 2.4.25
PHP version (eg, 7.1): 7.0.30
The issue you are facing:
Is this the first time you've seen this error? (Y/N): Y
Steps to replicate it:
1.Я попытался обновить через веб но возникают все галочки и выкидывает обратно на главную страницу
go into the settings and try to update
2.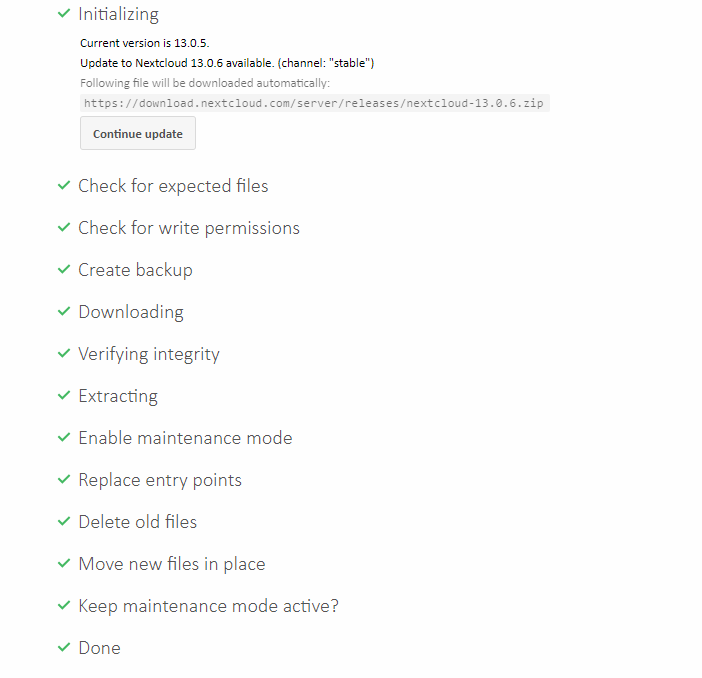 3.я попытался обновить через командную строку но он не видит новой версии
I tried to update via the command line but it does not see the new version
4. Я нашел что проблема в sql базе но не знаю как ее исправить.
I found that there is a problem in the sql database but I do not know how to fix it.
The output of your Nextcloud log in Admin > Logging:
|nfo|cli|Memcache \OC\Memcache\APCu not available for distributed cache|2018-09-06T11:10:01+0300|
|---|---|---|---|
|Info|cli|Memcache \OC\Memcache\APCu not available for local cache|2018-09-06T11:10:01+0300|
|Info|cli|Memcache \OC\Memcache\APCu not available for distributed cache|2018-09-06T11:05:02+0300|
|Info|cli|Memcache \OC\Memcache\APCu not available for local cache|2018-09-06T11:05:02+0300|
|Info|cli|Memcache \OC\Memcache\APCu not available for distributed cache|2018-09-06T11:00:01+0300|
|Info|cli|Memcache \OC\Memcache\APCu not available for local cache|2018-09-06T11:00:01+0300|
|Error|PHP|Undefined index: def at /var/www/nextcloud/apps/onlyoffice/templates/settings.php#77|2018-09-05T17:49:58+0300|
|Error|PHP|Undefined index: def at /var/www/nextcloud/apps/onlyoffice/templates/settings.php#77|2018-09-05T17:49:58+0300|
|Error|PHP|Undefined index: def at /var/www/nextcloud/apps/onlyoffice/templates/settings.php#77|2018-09-05T17:49:58+0300|
|Error|PHP|Undefined index: def at /var/www/nextcloud/apps/onlyoffice/templates/settings.php#77|2018-09-05T17:49:58+0300|
|Error|PHP|Undefined index: def at /var/www/nextcloud/apps/onlyoffice/templates/settings.php#77|2018-09-05T17:49:58+0300|
|Error|PHP|Undefined index: def at /var/www/nextcloud/apps/onlyoffice/templates/settings.php#77|2018-09-05T17:49:58+0300|
|Error|PHP|Undefined index: def at /var/www/nextcloud/apps/onlyoffice/templates/settings.php#77|2018-09-05T17:49:58+0300|
|Error|PHP|Undefined index: def at /var/www/nextcloud/apps/onlyoffice/templates/settings.php#77|2018-09-05T17:49:58+0300|
|Error|PHP|Undefined index: def at /var/www/nextcloud/apps/onlyoffice/templates/settings.php#77|2018-09-05T17:49:58+0300|
|Error|PHP|Undefined index: def at /var/www/nextcloud/apps/onlyoffice/templates/settings.php#77|2018-09-05T17:49:58+0300|
|Error|PHP|Undefined index: def at /var/www/nextcloud/apps/onlyoffice/templates/settings.php#77|2018-09-05T17:49:58+0300|
|Error|PHP|Undefined index: def at /var/www/nextcloud/apps/onlyoffice/templates/settings.php#77|2018-09-05T17:49:58+0300|
|Error|PHP|Undefined index: def at /var/www/nextcloud/apps/onlyoffice/templates/settings.php#77|2018-09-05T17:49:58+0300|
|Error|PHP|Undefined index: def at /var/www/nextcloud/apps/onlyoffice/templates/settings.php#77|2018-09-05T17:49:58+0300|
|Error|PHP|Undefined index: def at /var/www/nextcloud/apps/onlyoffice/templates/settings.php#77|2018-09-05T17:49:58+0300|
|Error|PHP|Undefined index: def at /var/www/nextcloud/apps/onlyoffice/templates/settings.php#77|2018-09-05T17:49:58+0300|
|Error|PHP|Undefined index: def at /var/www/nextcloud/apps/onlyoffice/templates/settings.php#77|2018-09-05T17:49:58+0300|
|Error|PHP|Undefined index: def at /var/www/nextcloud/apps/onlyoffice/templates/settings.php#77|2018-09-05T17:49:58+0300|
|Error|PHP|Undefined index: def at /var/www/nextcloud/apps/onlyoffice/templates/settings.php#77|2018-09-05T17:49:58+0300|
|Error|richdocuments|GuzzleHttp\Exception\RequestException: cURL error 3: <url> malformed|2018-09-05T17:22:35+0300|
|Error|admin_audit|$params["date"] was missing. Transferred value: Array ( [itemType] => folder [itemSource] => 505115 [date] => [uidOwner] => Matveeva )|2018-09-05T11:58:45+0300|
|Warning|core|Trusted domain error. "5.8.10.202" tried to access using "piratebuhta.cc" as host.|2018-09-02T12:56:29+0300|
|Warning|core|Trusted domain error. "5.8.10.202" tried to access using "darkpro.ws" as host.|2018-09-02T12:56:24+0300|
|Warning|core|Trusted domain error. "5.8.10.202" tried to access using "troyhack.xyz" as host.|2018-09-02T12:56:24+0300|
|Warning|core|Trusted domain error. "5.8.10.202" tried to access using "bhf.io" as host.|2018-09-02T12:56:24+0300|
|Error|gallery|Exception: Запрошенный общий ресурс более не существует. (404)|2018-09-01T21:33:28+0300|